76 Whitechapel High Street
Contributed by Survey of London on July 10, 2018
The present building here dates from 1845, put up by James Little & Sons, builders of America Square, Minories, and Size Yard, Whitechapel Road, during the occupation of Diggory Northey, a linen draper then also occupying Nos 75, and 78, and with premises in Soho. The common ownership of Nos 75 and 76 may help explain the overlaps between the two buildings to the rear where part of No. 76 runs over the passage between the two houses, once the access to Bull Court. No 76. includes a three-storey building to the rear through which the passageway to Bull Court once also ran; in 1840 a building on the site was a warehouse for John Phillips, the linen draper then in No. 76.
The sites of Nos 75 and 76 have alternated over 350 years between being a single building and two. By the early seventeenth century the main house and grounds on the site of one or both were in the tenure of Francis Mountfort, succeeded by William Blume by 1638, when the house was in the occupation of the gunmaker John Silke (d. 1660) later a member of the Gunmakers' Company and a supplier of guns to the Office of Ordnance since 1627. Silke was succeeded by William Camell or Cammell who witnessed his will in 1659. By 1693 the house was occupied by a victualler, James Lord (d. 1695), whose trustees were Joseph (d. 1711) and Richard Bowler, his neighbours at what was later No 75, in which use it continued into the mid-eighteenth century when it was known 'by the sign of Crown and Scepter'.
Use throughout the nineteenth and twentieth centuries was almost exclusively by the clothing trade – lace and baby linens from the 1840s to the 1880s, with Cappers tea dealers in residence in the 1880s, then ladies' outfitters and one of several Whitechapel branches of Abraham Goldenfeld, hosiers.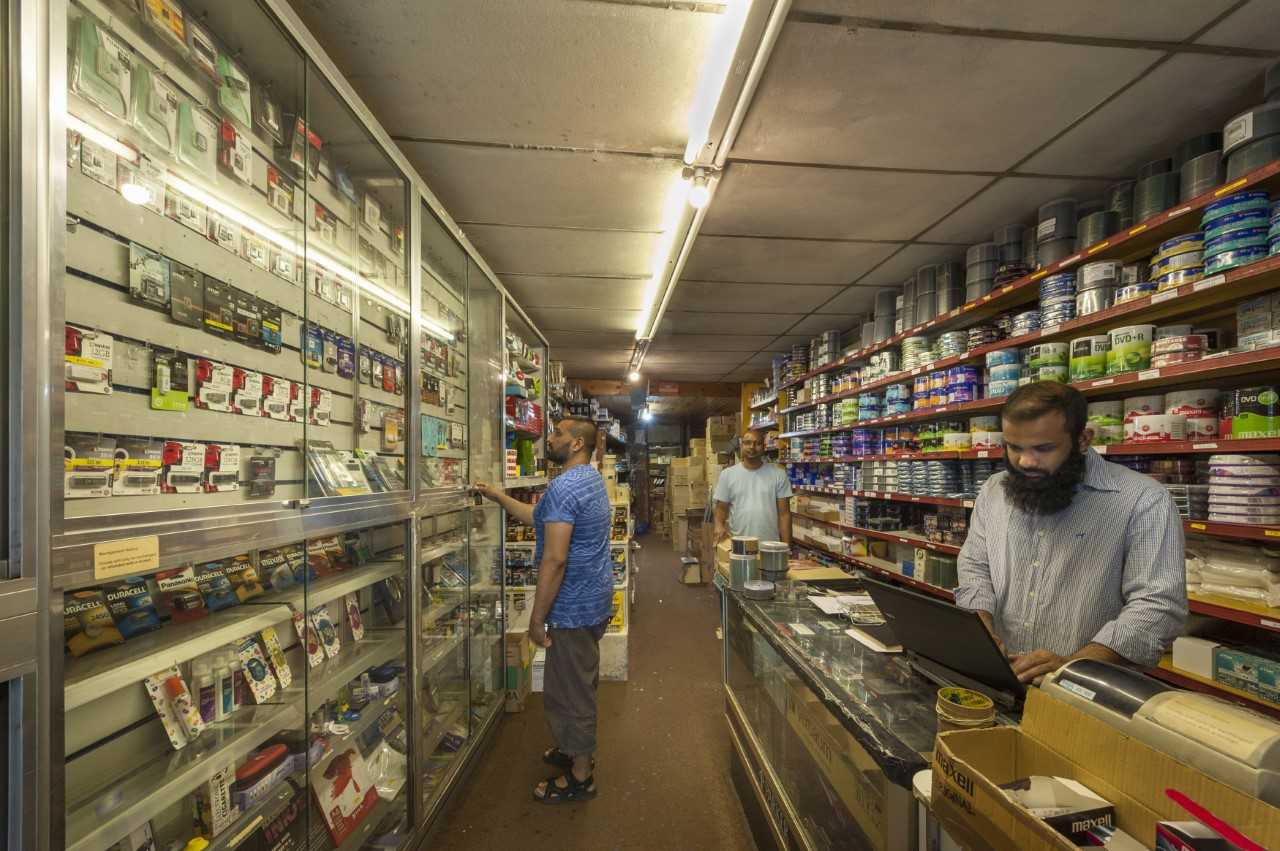 The shop at KVJ Fairdeal Ltd in July 2018 with staff members, from left, Mr Baber Khan, Mr Khairul Sojib and Mr Jessen Mootoosamy
Since the 1970s it has been run by Kamal Vijaya Jain, who established KVJ Fairdeal Ltd in 1967, wholesalers of photographic supplies, electrical equipment and later blank audio media, with much business now conducted online.